---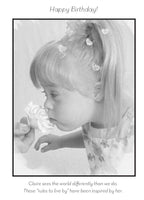 Outside: Happy birthday! Claire sees the world differently than we do. These "rules to live by" have been inspired by her.
Inside: 1. Whenever there is an opportunity for cake..take it
2. Add sprinkle to whatever is appropriate. It makes everything taste better.
3. When you look in the mirror, tell yourself you look adorable
4. A magic wand can complete an outfit
5. Tell cashiers they do a great job..it makes them smile.
6. Pat your friends on the back and tell them they are a good friend
7. Be nice to people, it makes them happy
8. Say hello to butterflies
9. Admire flowers when you get the chance
10. Remember that your birthday is the BEST day of the year!